200mm CO Cast Iron Edge Rail System
Drainage channel made of polymer concrete with sealable channel groove. Includes integrated galvanised steel edge protection.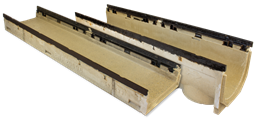 Key Features:
200mm Clear Opening width
Includes integrated Cast Iron edge rail
Multiple constant depth and stepped depth options available
Grate Options
Accessories include locks, end caps and inline sumps
Channels includes vertical connection facility
200mm Clear Opening width channel also available with galvanised steel edge rail or stainless steel edge rail.

Spec Sheets and Installation Guides