The Project
Developed by Hutchinson Builders for Moreland City Council, the Oak Park Sports and Aquatic Centre is Melbourne's new hub for aquatic fitness and leisure. Now reopened after a $27.3 million development, the centre features a new 50 metre outdoor pool, two giant water slides, a children's splash area, and an indoor gym. As the City of Moreland's largest capital works project, around 200,000 visitors are expected to visit the centre every year.
The Solution
More than 500 metres of Hydro's supreme polymer concrete solution in both 200mm and 300mm widths, along with Hydro's anti-slip marine stainless steel grates were supplied to the project, both poolside and within the centre itself. Versatile and strong, MEA Supreme drainage channels have exceptional resistance to water, chemicals and corrosion, making them a worthy choice for poolside applications.
With the advantage of Hydro's innovative and efficient installation devices, installation of these channels was completed in a single pour. With superior hygienic qualities, Hydro's stainless steel poolside grates easily meet the durability and anti-corrosive requirements of this busy outdoor swimming area. Hydro's stainless steel grates deliver on the aesthetic brief expected of a modern aquatic centre, while the added Suregrip nodules ensure smooth trafficability for pedestrians and swimmers for years to come.
Photo Gallery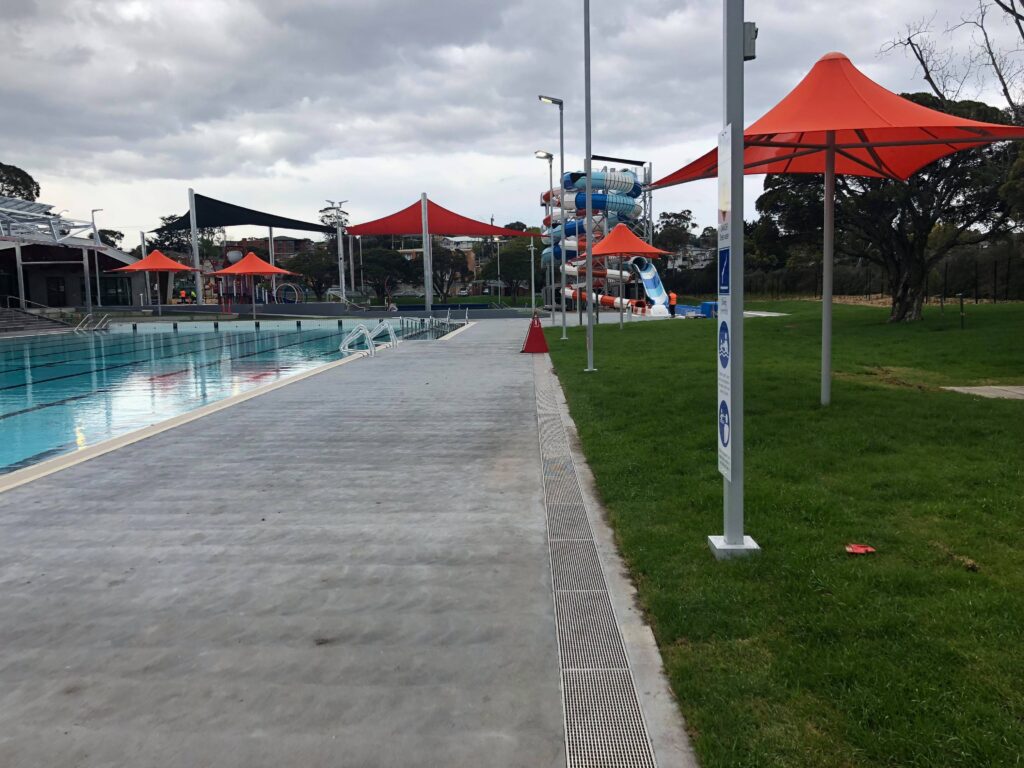 Products Used
300mm C/O Stainless Steel Edge Rail Systems
200mm C/O Stainless Steel Edge Rail Systems
Anti-slip Marine Grade Stainless Steel Grates