Polymer Concrete Pits
Features & Applications
Hydro Construction Products pits, pit extension risers and modular cableduct are manufactured from the same high quality non corrosive Polymer Concrete as their drainage channel counterparts. Polyester resin used as a bonding agent, together with mineral aggregates makes polyesterconcrete an extremely compression-proof building material; not only able to withstand heavy loads, but also extremely durable and long lasting with excellent dielectric properties, high mechanical strengths, chemical resistance and zero water absorption.
Compared to normal concrete, polymer concrete is an impervious material with few pores, characterised by its extreme stability and its low weight. Hydro Construction Products' polymer concrete consists predominantly of natural, mineral raw materials -such as quartz, basalt and granite -which are bound by a resinous mixture..
Furthermore, Hydro Construction Products' polymer concrete allows for the material optimised production of structural components that are up to 75% lighter than conventional concrete products. A benefit that pays dividends during installation, which can be accomplished without heavy equipment and in most cases can be lifted into position by hand, saving both time and money. Should disposal become necessary one day, this too presents no problem -because Hydro Construction Products' polymer concrete is an environmentally compatible building material that may be disposed of as rubble.
Hydro Construction Products' pits, extension risers and modular cableduct can be combined with various covers to create a cost effective electrical /communications pit/ duct solution for most projects throughout Australia & New Zealand.
Typical applications
Pedestrian areas
Domestic driveways
Schools
Parks
Car Parks
Service Stations
Streetscapes
Key features: Pits
Lightweight, compared to traditional cement concrete:
Manageable: The majority of our pits can be lifted with one or two people.
Environmental Protection: Hydro Construction Products pits are leak proof and extremely resistant to liquid chemicals.
Tough Design: Designed for loading classes from A10 to G900.
Cover Options: Available with cover options in stainless steel, Galvanised checker plate steel or ductile iron.
Outlets: Designed with pre-formed knockouts on all walls for simple conduit installation.
Trafficable: Combined with suitable covers to achieve Class A – G Loadings
Secure: Covers can be locked down to prevent theft and movement.
Workability: Easily worked with grinding disks, masonry drills and chisels . No Steel Reinforcement.
Ageing Resistance: entirely frost proof, maintenance free and unsusceptible to wear.
Available: Polymer concrete pits are distributed throughout Australia and New Zealand.
Versatile: Depth of pits can be increased in 270mm increments by adding our Polymer Concrete risers.
Unique Feature: A unique feature of the Hydro Polymer Pits / Ducts is the ability to utilise the M8 Galvanised Thread located in the corners of the lid recess. With the addition of a M8 Threaded Bolt the Covers can be to securely locked down to the pit without the expensive cost of adding additional brackets or bars. The M8 Galvanised Thread can also be utilised to assist in lifting with the addition of lifting hooks/chains.
Pits with Covers for Electrical & Communications Cable Applications
300×300 C/O PITS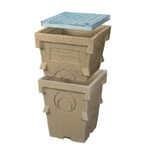 | Part No. | Description | Material | Weight (kg) |
| --- | --- | --- | --- |
| P30 | Pit Body | Polymer | 22.5 |
| R30 | Pit Riser | Polymer | 13.6 |
| C30 | Cover | Gal Checker Plate * Class A | 4.5 |
| C30C | Cover | Gal Checker Plate * Class A | – |
P30: Dimensions – Pit 300L x 300W x 450D Lid 385L x 385W Clear Opening
---
450×450 C/O PITS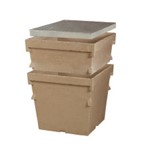 | Part No. | Description | Material | Weight (kg) |
| --- | --- | --- | --- |
| P45 | Pit Body | Polymer | 43 |
| R45 | Pit Riser | Polymer | 20 |
| C45 | Cover | Gal Checker Plate * Class A | 9.5 |
| C45C | Cover | Gal Checker Plate * Class C | – |
P45: Dimensions – Pit 450L x 450W x 600D Lid 485L x 485W Clear Opening
---
600×600 C/O PITS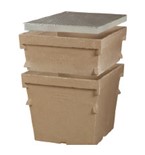 | Part No. | Description | Material | Weight (kg) |
| --- | --- | --- | --- |
| P60 | Pit Body | Polymer | 60.5 |
| R60 | Pit Riser | Polymer | 28 |
| C60 | Cover | Gal Checker Plate * Class A | 23.4 |
| C60C | Cover | Gal Checker Plate * Class C | – |
P60: Dimensions – Pit 600L x 600W x 600D Lid 635L x 635W Clear Opening
---
900×600 C/O PITS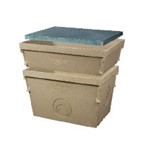 | Part No. | Description | Material | Weight (kg) |
| --- | --- | --- | --- |
| P96 | Pit Body | Polymer | 81 |
| R96 | Pit Riser | Polymer | 35 |
| C96 | Cover | Gal Checker Plate * Class A | 34.0 |
| C96C | Cover | Gal Checker Plate * Class C | – |
P96: Dimensions – Pit 900L x 600W x 450D Lid 935L x 635W Clear Opening
---
900×900 C/O PITS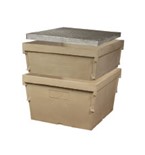 | Part No. | Description | Material | Weight (kg) |
| --- | --- | --- | --- |
| P90 | Pit Body | Polymer | 135 |
| R90 | Pit Riser | Polymer | 70 |
| C90 | Cover | Gal Checker Plate | 52 |
| C90C | Cover | Gal Checker Plate | 62 |
P90: Dimensions – Pit 900L x 900W x 600D Lid 935L x 935W Clear Opening
---
Earth Rod Pit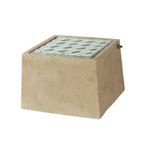 | Part No. | Description | Material | Weight (kg) |
| --- | --- | --- | --- |
| P20 | Earth Rod Pit with Steel Hinged Lid | Polymer / Steel | 5.7 |
Earth Rod Pit: Dimensions – Pit 200L x 200W x 150D
Accessories for HDPE Pits & Covers
A full range of Accessories can be supplied & used in conjunction with the Polymer Pits & associated Covers. Accessories include:
Standard Hook Lid Lifter for Class A Covers
Standard Heavy Duty Lid Lifter for Class B & D Covers
Brass Identification Plates – Electrical, Communications or Custom Made
Holesaws & Masonary Drill Bits at various OD's to suit application of various conduit entries